THE
SAFEST WAY


TO CHAIN DOWN
YOUR LOAD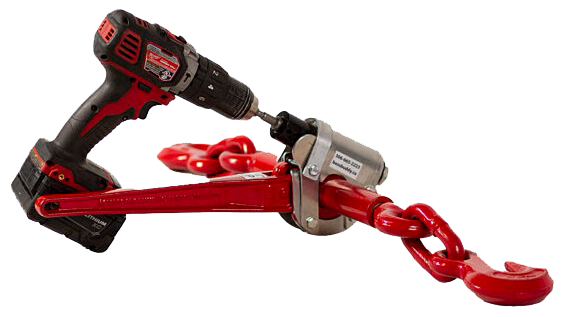 THE BOSS MAKES YOUR JOB
EASIER
The time consuming job of extending and retracting your load binder is a thing of the past with the BOSS.
The BOSS is geared to multiply the torque of your drill at least 15 times. The added torque makes it easy to tighten your chains securely with any quality cordless drill.
One hand is all that is needed to hold the drill under full torque. There is no stress on the hand, wrist and arm. The drill operates at a position that keeps your hand and fingers out of harms way at all times.
The BOSS definition of efficiency: Achieving maximum productivity with minimum wasted effort and time. The BOSS makes the slow, tedious and physically demanding job of using load binders effortless and quick.
USE THE BOSS IN
POWER

OR

MANUAL
You can see that quality is built into every Load Binder BOSS. Aluminum and stainless steel throughout. All aluminum frame. Tough but light weight. Will never rust. Stainless steel drive. Drive shaft, drive screw and drive nut are made from wear and corrosion resistant stainless steel. Ball bearings not bushings on drive shaft provide trouble free operation and more efficient transfer of power. The Boss is built to give many years of trouble-free service under the harshest of conditions.
THE BOSS SAVES
TIME & MONEY
We designed the BOSS to install easily on your existing ratchet load binder on purpose. Why replace the one that you already own, you already paid for it! The BOSS attachment gives you the best chain tie down for less.
The load binder BOSS can be transferred to a new load binder should your binder become damaged or worn out. Because of the long service life built into the load binder BOSS you can amortize the cost over several years. Time is money. The time saved using the BOSS will pay for it many times over.