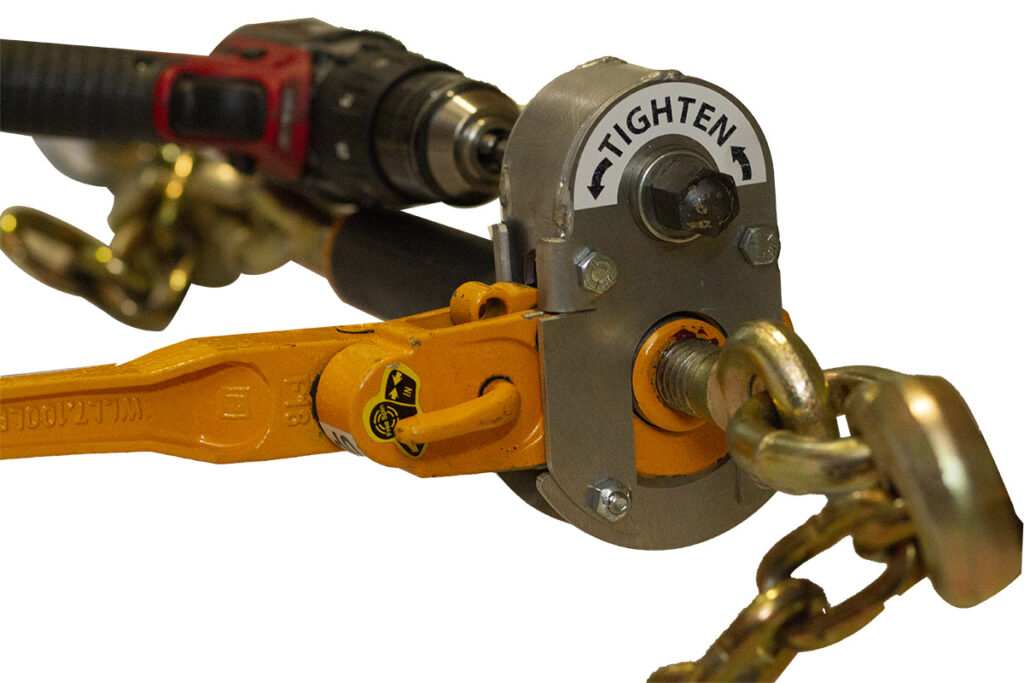 The fastest way to tighten a chain…
Left hand operation

Right hand operation
GET HOOKED ON SPEED
Get hooked on speed and efficiency
The BUDDY is quick. Quick enough to put a smile on your face the first time you use it. There is NOTHING faster. You can loosen off or snug up your chain in under 4 seconds. Time saved using the BUDDY will have you driving down the road instead of chaining down your load. Time is money. Your time is worth the BUDDY.
Get hooked on operator safety
Let the drill do the work. The BUDDY makes the physically demanding job of operating binders effortless and quick. Get hooked on power savings. What the BUDDY lacks in torque it makes up for in speed. The short time the drill operates to loosen or snug up the chain minimizes battery power consumption. This significantly increases the cycles between charging over any other system. The power robbing torque needed to fully tighten the load with a "drill only" system is done in a couple of quick manual strokes of the binder by the operator.
Manual Override
The "MUST HAVE" feature: No drill? Low battery? Need chain tighter? No Problem with the BUDDY. Your load binder can be operated manually at any time with the BUDDY installed.
Built to last
Sealed bearings, aluminum frame, heat treated drive gear. Light weight but tough. The BUDDY is built to give trouble-free service under the harshest conditions.
The Load Binder Buddy is the quickest thing going. Less torque than the BOSS but it makes up for it with speed. It can extend and retract a ratchet binder in seconds. Quick enough to put a smile on your face and leave the manual boys miles behind.
Buy the Buddy